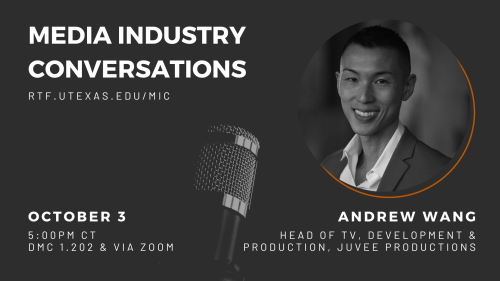 Andrew Wang (Head of TV, Development & Production, JuVee Productions)
When: Monday, October 3, 2022 - 5:00-6:15 pm CT
Note: Speaker sessions are subject to change based on evolving guest schedules.
Please join us for a Q&A session where we discuss Andrew Wang's career trajectory, his roles and responsibilities, and his views on the current state of the media industries.
To RSVP, please fill out this form & we will send out the Zoom link day-of. 
---
Speaker Biography
Joining the JuVee team in 2016, Andrew Wang was previously Vice President of Scripted Television and Production for the cable network Bravo, where he was responsible for establishing the cabler as a home for scripted programming. While at Bravo, he developed Girlfriends' Guide to Divorce, the comedy Odd Mom Out, and the upcoming dark comedy My So-Called Wife. Prior to joining Bravo, Wang previously held the role of Vice President of TV Development & Production for Alloy Entertainment where he was involved in developing and managing popular television series such as Gossip Girl, The Vampire Diaries, Pretty Little Liars and 666 Park Avenue. He was instrumental in bringing several successful hour long drama and half-hour comedy series to networks including NBC, ABC, The CW, ABC Family and Nickelodeon. Wang started his career at Storyline Entertainment where during his three years there, he oversaw scripted and non-fiction series under ABC Studios, as well as developed longform projects under Sony Television Pictures including ABC's A Raisin In The Sun and A&E's Wedding Wars. Wang graduated from the University of Texas at Austin with a B.S. in Radio, Television and Film.