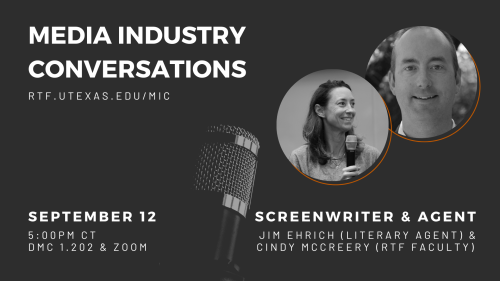 Launching Your Career Panel (Screenwriter & Agent)
When: Monday, September 12, 2022 - 5:00-6:15 pm CT
Please join us for a Q&A session where Jim Ehrich (literary agent, Rothman Brecher Ehrich Livingston) and Cindy McCreery (RTF faculty member, Honey Girls) discuss their career trajectories, the scope of their work, and their views on the current state of the media industries.
To RSVP, please fill out this form & we will send out the Zoom link day-of. 
---
Speaker Biographies 
Jim Ehrich (literary agent, Rothman Brecher Ehrich Livingston)
Jim Ehrich started his career at boutique management company Hofflund/Polone, where he rose from receptionist to manager. While at Hofflund/Polone, he worked with both feature and television writers and directors. After Hofflund/Polone, he joined Writers & Artists Agency as a literary agent, where he specialized in crossing over playwrights into the feature business. Jim joined The Rothman Agency in 2003 as a literary agent and later became a partner in the agency. He works in film, television and IP representing both writers and directors.
---
Cindy McCreery (RTF associate professor & screenwriting area head, Honey Girls)
Cindy McCreery was a Walt Disney/ABC Feature Writing Fellow and has since sold feature and television projects to New Line Cinema, Walt Disney Studios, Paramount Pictures, Nickelodeon, National Geographic Films, Warner Brothers, MGM, Branded Entertainment, Lionsgate, SyFy Channel, Disney Channel, NBC, TNT, Televisa USA, Universal Television and AMC's Shudder. Most recently she has produced the fictional podcast, Quaranteen'd, and just finished writing a feature film for Sony Pictures called The Honey Girls. Cindy lives in Austin, Texas with her husband Paul McCreery and their two children Charlie and Finn. She's a member of The Writer's Guild of America and is an Associate Professor and the Screenwriting Area Head at The University of Texas at Austin in The Department of Radio-TV-Film.