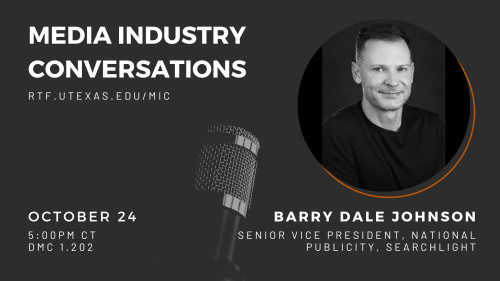 Barry Dale Johnson (Senior Vice President, National Publicity, Searchlight)
When: Monday, October 24, 2022 - 5:00-6:15 pm CT
Note: Speaker sessions are subject to change based on evolving guest schedules.
Please join us for a Q&A session where we discuss Barry Dale Johnson's career trajectory, his roles and responsibilities, and his views on the current state of the media industries.
---
Speaker Biography
Senior Executive with 2 Decades in Entertainment and 15+ Years Studio and Agency Experience and Leadership in Marketing + Public Relations in Los Angeles and New York with Disney's Searchlight Pictures, 21CF's Fox Searchlight Pictures, and ID.
Strategic Release, Awards and Global Festival Campaigns for Searchlight, covering Publicity, Marketing, Corporate Communications, Academy/BAFTA and Guild Outreach, Press Outreach, Agency Management, and Audience Positioning.
Titles Include 5 Best Picture Winners and 20 Best Picture Nominations, as well as other Commercial and Critical Successes including Nightmare Alley, Jojo Rabbit, The Favourite, Three Billboards, The Grand Budapest Hotel, Brooklyn, Beasts of the Southern Wild, The Tree of Life, The Descendants, The Best Exotic Marigold Hotel, Juno, and Little Miss Sunshine.
40 Academy Awards and 150 Academy Award Nominations Across 50+ Specialty Platform and Wide Release Campaigns including Best Picture Winners Slumdog Millionaire, 12 Years a Slave, Birdman, The Shape of Water, and Nomadland and Best Actress Winners Frances McDormand (Three Billboards; Nomadland), Natalie Portman (Black Swan), and Olivia Colman (The Favourite), and Best Director Winners Chloé Zhao (Nomadland), Guillermo del Toro (The Shape of Water), Alejandro G. Iñárritu (Birdman), and Danny Boyle (Slumdog Millionaire); Streaming Titles with Searchlight Pictures for Hulu Originals including Fire Island, Summer of Soul, and Limited Series The Dropout.
Expertise in Assessment of Awards Prospects from Project's Development, Including Below-the-Line Crew, Talent, Guild Affiliation, and Historical Comps to Best Position for Awards (Narrative, Animation, Documentary, Shorts, Foreign).