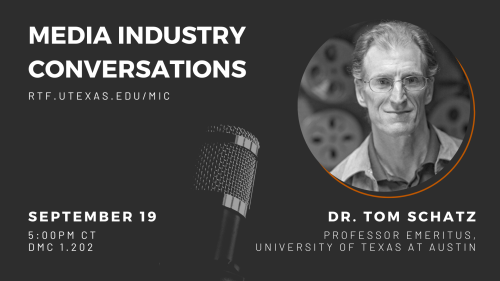 Dr. Tom Schatz (Professor Emeritus)
When: Monday, September 19, 2022 - 5:00-6:15 pm CT
Where: DMC 1.202 and via Zoom (link sent to those who RSVP)
Note: Speaker sessions are subject to change based on evolving guest schedules.
Please join us for a Q&A session where we discuss Dr. Tom Schatz's research on the development of the media industries and his views on the current state of the media industries.
To RSVP, please fill out this form & we will send out the Zoom link day-of. 
---
Speaker Biography
Tom Schatz is the Mary Gibbs Jones Centennial Chair Emeritus of the Department of Radio-Television-Film at The University of Texas at Austin, where he served on the faculty from 1976 to 2021, and was the Executive Director of the University of Texas Film Institute. He has written four books about Hollywood films and filmmaking, including Hollywood Genres: Formulas, Filmmaking, and the Studio System; The Genius of the System: Hollywood Filmmaking in the Studio Era; and Boom and Bust: American Cinema in the 1940s. Schatz edited the four-volume collection, Hollywood: Critical Concepts, and he also serves as series editor of the Film and Media Studies Series for the University of Texas Press. Schatz's writing on film has appeared in numerous magazines, newspapers, and academic journals, including The New York Times, the Los Angeles Times, Premiere, The Nation, Film Comment, Film Quarterly, and Cineaste.
Schatz lectures widely on American film and television in the U.S. and abroad, and he has delivered talks and conducted seminars for the Motion Picture Academy, the Directors Guild of America, the American Film Institute and the Los Angeles Film School. Schatz also is engaged in media production, has consulted and provided on-screen commentary for a number of film and television documentaries, and is co-producer of "The Territory," a long-running regional PBS series that showcases independent film and video work.
Schatz's recent publications include an essay on "Band of Brothers" in The Essential HBO Reader (2008) and "The Studio System and Conglomerate Hollywood," the lead essay in The Contemporary Hollywood Film Industry (2008). Current publishing projects include a study of contemporary Hollywood and a revised edition of Hollywood Genres.
As Executive Director of the UT Film Institute, which he founded and launched in 2003, Schatz oversaw a program devoted to training students in narrative and digital filmmaking, and the actual production of feature-length independent films.