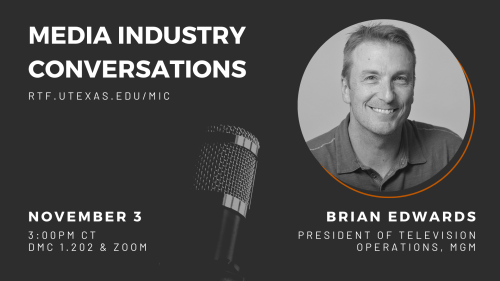 Brian Edwards (President of Television Operations, MGM)
When: Wednesday, November 03, 2021 - 3:00-4:15 pm CT
Note: Speaker sessions are subject to change based on evolving guest schedules.
Please join us for a Q&A session where we discuss Brian Edwards' career trajectory, his roles and responsibilities, and his views on the current state of the media industries.
To RSVP, please fill out this form & we will send out the Zoom link day-of. 
---
Speaker Biography
Brian is the President of Television Operations for MGM. He oversees all business and related matters for MGM global television, with productions around the world ranging from The Handmaid's Tale (Hulu), Fargo (FX) and Wednesday Addams (Netflix) to Survivor (CBS), The Voice (NBC) and Shark Tank (ABC). The television labels he oversees include MGM Scripted Television, MGM Alternative Television, Orion Television, MGM International Television Productions and Gato Grande. Brian is a member of MGM's Office of the CEO, and serves on the board of two related companies (Audio Up, a podcast company in which MGM was the initial lead investor, and Gato Grande, a joint venture producing content for the Latin American and US Latin audiences including the Netflix hit Luis Miguel).