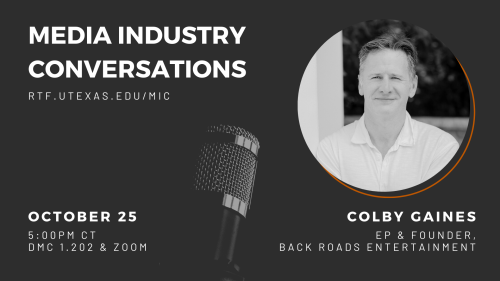 Colby Gaines (EP & Founder, Back Roads Entertainment)
When: Monday, October 25, 2021 - 5:00-6:15 pm CT
Note: Speaker sessions are subject to change based on evolving guest schedules.
Please join us for a Q&A session where we discuss Colby Gaines's career trajectory, his roles and responsibilities, and his views on the current state of the media industries.
To RSVP, please fill out this form & we will send out the Zoom link day-of. 
---
Speaker Biography
Colby Gaines of Back Roads Entertainment, now located in Austin after 20 years in NYC, is one of the top storytellers in entertainment. He's well known for having co-created cable's longest-running hit show, Pawn Stars. He's currently developing and producing with the likes of Amazon, MotorTrend, and Hulu and with celebrities like David Beckham, Blake Shelton and Jeremy Piven, among others. After relocating to Austin, Colby set up shop downtown and has made it his mission to spotlight with heart and levity the stories that define and illuminate life including food, home and family.