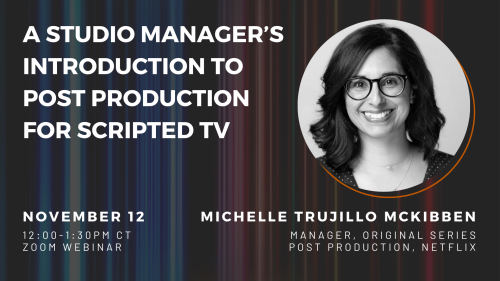 A Studio Manager's Intro to Post Production for Scripted Television
When: Friday, November 12, 2021 - 12:00-1:30 pm CT
A special MIC presentation brought to you by the Center for Entertainment & Media Industries (CEMI) and the Department of Radio-Television-Film (RTF).
What is Post Production? When does the Post Production process start? Who is part of the Post Production team, and what does each person do? How might you prepare for a career in Post Production? Find out the answers to these questions and many more by attending a conversation with Michelle Trujillo McKibben (Manager, Original Series Post Production, Netflix).
To RSVP, please fill out this form & we will send out the Zoom link day-of. 
---
Speaker Biography
Michelle Trujillo McKibben graduated from the University of Texas in 2001 with a BA in Theatre & Dance and moved to Los Angeles in 2006 to pursue a career in television. She began her career at ABC Studios after landing a position in its Associate Program, where her focus was in Post Production. She has since worked in the Post Production department on several high-profile series, including The Walking Dead, Marvel's Agents of S.H.I.E.L.D., and Scrubs. Michelle now works at Netflix overseeing Post Production on Original Series programming.