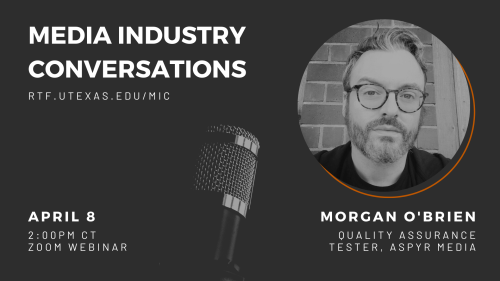 Morgan O'Brien, PhD (Quality Assurance Tester, Aspyr Media)
When: Friday, April 8, 2022 - 2:00-2:50 pm CT
Note: Speaker sessions are subject to change based on evolving guest schedules.
This is conjunction with Dr. Lesley Willard's Video Game Industry course.
Please join us for a Q&A session where we discuss Morgan O'Brien's career trajectory, his roles and responsibilities, and his views on the current state of the video game industry.
---
Speaker Biography
Morgan O'Brien currently works as a Quality Assurance Tester for Aspyr Media in Austin, and is an adjunct faculty member at Central Texas College, Killeen. He gained his Ph.D in Media Studies from UT-Austin in fall, 2020. Morgan's doctoral dissertation engages in close readings of several games published by Devolver Digital, arguing for an approach to game studies that considers games that feature retro-styled aesthetics be evaluated on their own terms, as opposed being dismissed as instances of nostalgia.