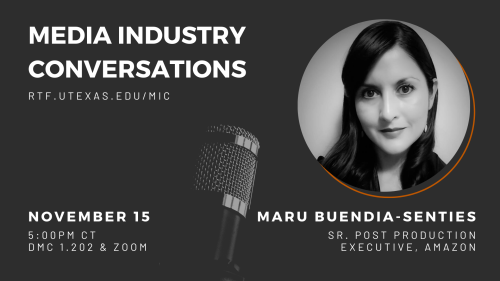 Maru Buendia-Senties (Senior Post Production Executive, Amazon Studios)
When: Monday, November 15, 2021 - 5:00-6:15 pm CT
Note: Speaker sessions are subject to change based on evolving guest schedules.
Please join us for a Q&A session where we discuss Maru Buendia-Senties's career trajectory, her roles and responsibilities, and her views on the current state of the media industries.
To RSVP, please fill out this form & we will send out the Zoom link day-of. 
---
Speaker Biography
Award winning writer/director, Maru Buendia-Senties, originally from Mexico City, currently lives in Los Angeles, CA and earned her MFA in Film Production from the University of Texas at Austin. As a winner of the Princess Grace Award and the Latino Lens Narrative Incubator by NALIP, Maru embraces her passion for writing and directing genre films. Her strong post production and visual effects background led to her collaborations with Robert Rodriguez at Troublemaker Studios; Mirada Studios, company created by Guillermo del Toro; and Pixomondo, visual effects company for Game of Thrones, and several VFX collaborations with Sony, Screen Gems & Annapurna. 
Her current role, Sr. Post Production Executive at Amazon Studios is focused on scripted and unscripted LATAM projects, while she continues her personal endeavors in film from the perspective of two cultures that have defined her storytelling.