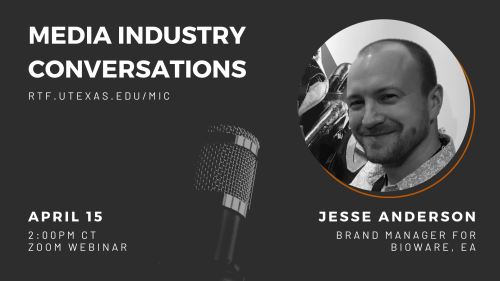 Jesse Anderson (Brand Manager for BioWare, Electronic Arts)
When: Friday, April 15, 2022 - 2:00-2:50 pm CT
Note: Speaker sessions are subject to change based on evolving guest schedules.
This is conjunction with Dr. Lesley Willard's Video Game Industry course.
Please join us for a Q&A session where we discuss Jesse Anderson's career trajectory, his roles and responsibilities, and his views on the current state of the video game industry.
To RSVP, please fill out this form & we will send out the Zoom link day-of. 
---
Speaker Biography
Jesse Anderson is a video game industry professional with over 15 years of experience across multiple disciplines including brand, product marketing and community management.
The online MMO Dark Age of Camelot was his entryway into the video game industry, where he remotely volunteered as a class team lead to bridge the gap between players and developers. He then went on to ship over 40 strategy guides for franchises such as The Legend of Zelda and Final Fantasy during his 5 years at Prima Games.
For the past 6 years he has worked at Electronic Arts in community and brand management roles on titles such as Star Wars, Plants vs. Zombies, Mass Effect, The Sims, and many more.