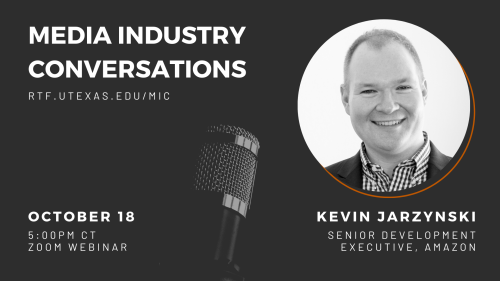 Kevin Jarzynski (Senior Development Executive, Amazon Studios)
When: Monday, October 18, 2021 - 5:00-6:15 pm CT
Note: Speaker sessions are subject to change based on evolving guest schedules.
Please join us for a Q&A session where we discuss Kevin Jarzynski's career trajectory, his roles and responsibilities, and his views on the current state of the media industries.
To RSVP, please fill out this form & we will send out the Zoom link day-of. 
---
Speaker Biography
Kevin Jarzynski (B.S., RTF '01) is a Senior Development Executive in Amazon's Genre TV Department. The department's focus is on producing original, premium shows within the sci-fi, fantasy, horror, and superhero genres. Kevin is the point executive on Amazon's adaptation of The Lord of the Rings, having spent 10 months in New Zealand with the show after assembling the core creative team, including longtime collaborators JD Payne & Patrick McKay (showrunners) and Lindsey Weber (NWEP), and leading development. In addition, he is also in production on high-profile adaptations of William Gibson's The Peripheral with Kilter Films (Westworld) and showrunners Scott Smith (A Simple Plan) & Greg Plageman (Person of Interest), and  Brian K. Vaughn's smash comic Paper Girls with showrunner Chris Rogers (Halt and Catch Fire). Amongst his slate, Kevin is currently developing adaptations of Fallout, based on the ongoing video game series, and My Lady Jane, an enchanted coming-of-age dramedy set in Tudor times based on the New York Times Bestselling novel.
Previously, Kevin was at Bad Robot for 10 years, starting as an assistant and then being promoted several times as a Feature Film Executive, having worked with top tier talent such as Edgar Wright, Justin Lin, Billy Ray, and Mark L. Smith. He was an executive on Star Trek Beyond and Overlord, among others. Prior to Bad Robot, Kevin started his career as an assistant at Kopelson Entertainment after having interned there.