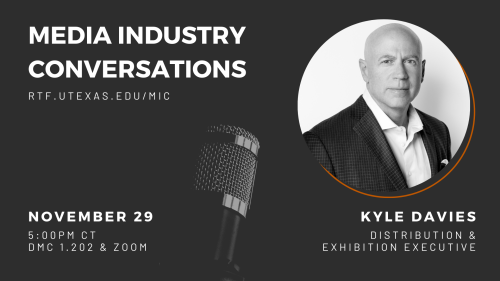 Kyle Davies (Distribution and Exhibition Consultant)
When: Monday, November 29, 2021 - 5:00-6:15 pm CT
Note: Speaker sessions are subject to change based on evolving guest schedules.
Please join us for a Q&A session where we discuss Kyle Davies's career trajectory, his roles and responsibilities, and his views on the current state of the media industries.
To RSVP, please fill out this form & we will send out the Zoom link day-of. 
---
Speaker Biography
Kyle Davies is a senior entertainment industry executive with over 30 years of experience at both major entertainment studios and independents with strong relationships across the creative, production and distribution segments of the business. He is the owner of Davies Entertainment Group and currently working with Neon.
Kyle served as President of Domestic Distribution for Paramount Pictures from 2016-2020. He was responsible for the distribution strategy for dozens of films including: Rocketman, A Quiet Place, Book Club, Mission: Impossible – Fallout, Bumblebee, Arrival, Fences, Daddy's Home 2 and Annihilation. He oversaw a domestic theatrical distribution team of over 70 people with offices in Hollywood and Toronto. 
Prior to Paramount, Kyle was President of Worldwide Distribution for Relativity Media, where he played an instrumental role in the Company's evolution from a financing and producing entity into a full-fledged studio. With the creation in 2014 of a joint venture company (Relativity EuropaCorp Distribution) Kyle's responsibilities expanded to oversight of both companies' domestic and international distribution strategies.
Kyle was named President of Theatrical Distribution in 2010, after Relativity acquired Overture Films' marketing and distribution assets. He previously served as Executive Vice President of Theatrical Distribution for Overture Films, where he handled the distribution of such releases as Law Abiding Citizen, Brooklyn's Finest, and The Visitor. 
Prior to joining Overture, Kyle was Senior Vice President of Distribution at Paramount Pictures. He joined Paramount following its purchase of DreamWorks, where he was Senior Vice President, Distribution. Kyle worked on numerous films including: Mission: Impossible III, Dreamgirls, Over the Hedge, Gladiator, Saving Private Ryan, American Beauty, Shrek and Shrek II. 
Davies began his entertainment career in exhibition working as a film buyer for major theater chains including National Amusements and General Cinema.  
In addition to his years in distribution and exhibition, Kyle also has been very active with several charities including recently serving as President of the industry charity, Will Rogers Motion Picture Pioneers Foundation. He also is a current member of the Executive branch of the Academy of Motion Picture Arts and Sciences. 
In 2013, Kyle received the Salah M. Hassanein Humanitarian Award, recognizing his distinguished philanthropic service.