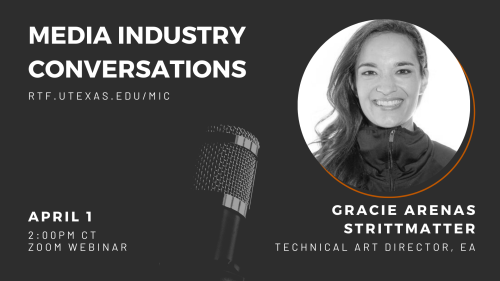 Gracie Arenas Strittmatter (Technical Art Director, EA Sports)
When: Friday, April 1, 2022 - 2:00-3:00 pm CT
Note: Speaker sessions are subject to change based on evolving guest schedules.
This is conjunction with Dr. Lesley Willard's Video Game Industry course.
Please join us for a Q&A session where we discuss Gracie Arenas Strittmatter's career trajectory, her roles and responsibilities, and her views on the current state of the video game industry.
To RSVP, please fill out this form & we will send out the Zoom link day-of. 
---
Speaker Biography
Gracie Arenas Strittmatter is currently Technical Art Director at EA Sports and formerly Technical Art Director and Deputy Director of Art and Animation at BioWare, divisions of Electronic Arts (EA), in Austin, Texas. A 15-year veteran of the gaming industry and professional problem solver, she previously worked on Star Wars: The Old Republic and holds credits on AAA titles including Anthem, Madden NFL, NBA Live, and Tiger Woods PGA Tour. She is passionate about leadership development, problem solving, programming, art tools development in Python and C#, collaborating with artists, leading distributed teams, team building, effective communication, and career management. As the first female university graduate in her family, she advocates the power of education and the value of women and minorities in tech. Gracie serves as global co-chair for EA's Hispanic/Latino Employee Resource Group, Somos EA, and has volunteered with ACM SIGGRAPH for nearly two decades. She volunteers in the community to introduce students to careers in games and serves on the industry board for the Texas A&M Department of Visualization. She is originally from San Antonio, Texas and holds a BS in Computer Science and a MS in Visualization Sciences from Texas A&M University.