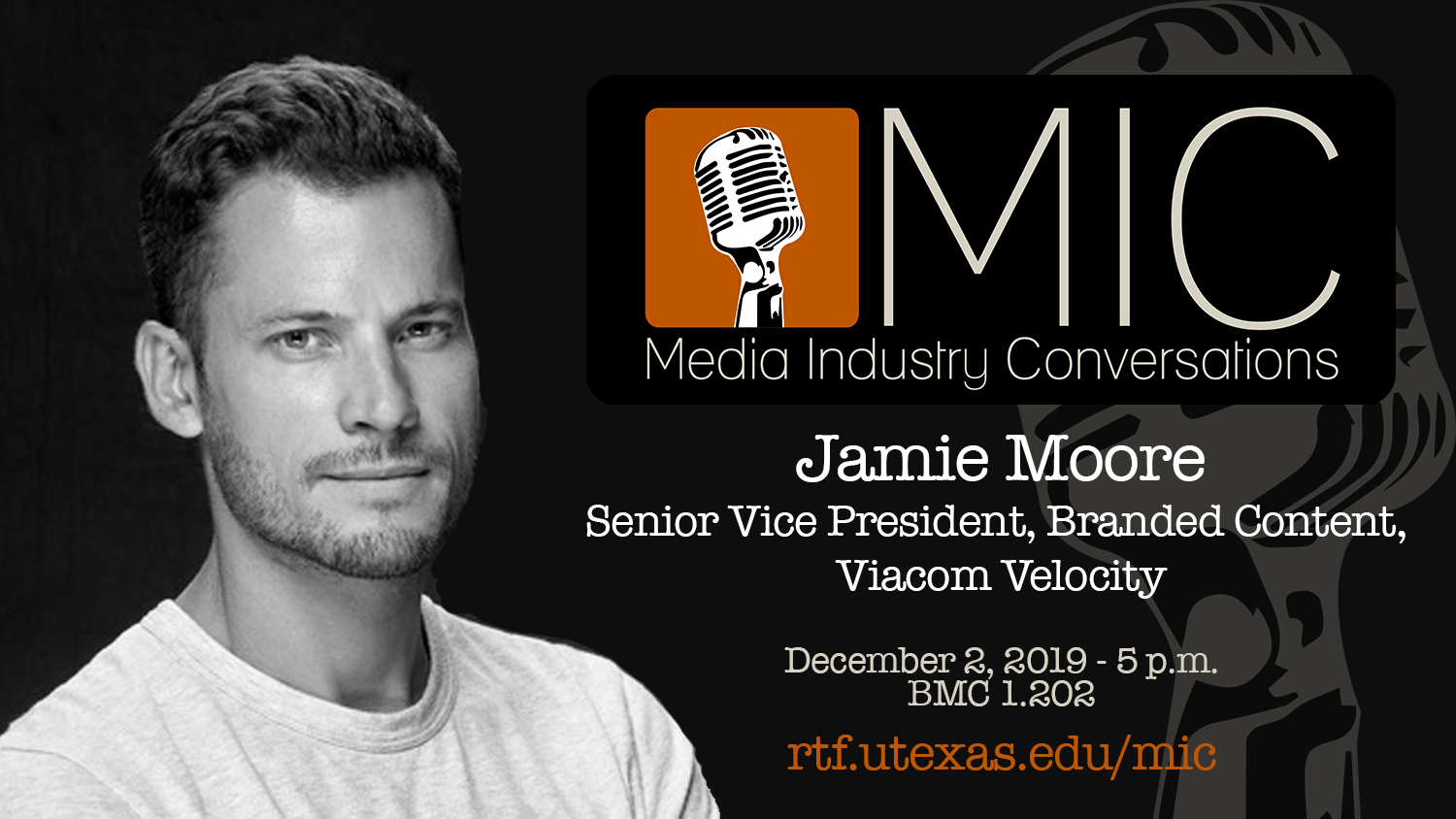 Jamie Moore (Senior Vice President, Branded Content, Viacom Velocity)
When: Monday, December 2, 2019 - 5-6:15 p.m.
Where: BMC 1.202
Please join us for a Q&A session where we discuss Jamie Moore's career trajectory, his roles and responsibilities as the Senior Vice President of Branded Content at Viacom Velocity, and his views on the current state of the media industries.
Jamie Moore's Biography 
Jamie Moore is SVP at Viacom Velocity, a premier branded entertainment studio. Jamie began his professional career not in media, but rather racing open wheel Formula cars. He went on to study film at The University of Texas, and moved to Los Angeles soon after participating in the UTLA program. Landing his first job as an intern, Jamie worked his way up within the same company to become VP of Production and Branded Content at Defy Media. 
With a passion for entrepreneurship, Jamie then set out to form his own company, Play Productions, which specialized in creative and production services for Fortune 500 companies. As founder and CEO, Jamie balanced branded content with traditional entertainment. He executive produced multi-million dollar campaigns while also producing television programming and films for networks like Netflix, Showtime, True TV, AMC, Fuse, and Sony. His entrepreneurial drive would lead him to start up other successful production entities, as well as a film equipment rental house. 
Entering the next phase of his career, Jamie shifted to helm large departments within established media companies. He was hired as SVP of Branded Content at AwesomenessTV, heading up creative and production departments, and then successfully transitioned to SVP at Velocity during Viacom's acquisition of AwesomenessTV from NBCUniversal. 
With the pending merger of Viacom and CBS, Jamie continues to lead creative and production departments at Velocity amidst a constantly shifting media landscape. At a time of changing market trends and new technologies, he remains dedicated to the creation of compelling and award-winning content.