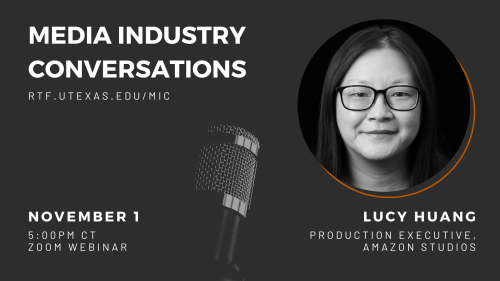 Lucy Huang (Production Executive, Amazon Studios)
When: Monday, November 1, 2021 - 5:00-6:15 pm CT
Note: Speaker sessions are subject to change based on evolving guest schedules.
Please join us for a Q&A session where we discuss Lucy Huang's career trajectory, her roles and responsibilities, and her views on the current state of the media industries.
To RSVP, please fill out this form & we will send out the Zoom link day-of. 
---
Speaker Biography
Lucy oversees production for various Amazon Studios Originals series. Projects include: Homecoming, Mozart in the Jungle, The Tick, Red Oaks, Transparent and the upcoming Modern Love. Prior to joining Amazon Studios, Lucy freelanced in production on scripted and non-scripted content including single and multi-camera formats for television and film. Though born in Taipei, Lucy considers herself a native Southern Californian having grown up in Los Angeles and the O.C. Lucy is a member of the Producers Guild of America and the Television Academy. She is a graduate from UCLA.
Fall 2021 MIC Speakers
Guests include Caterina Nasr (Senior Manager, A&R, Elektra Music), Vance Nguyen (Assistant to VP & Executive Director of Development, 20th Century Animation), Lauren Zimmer (Television Scripted Assistant at Creative Artists Agency), and Hemrani Vyas (Assistant Manager of Programming, TCM).
5:00–6:15 pm CT
Guests include Davia Carter (executive story editor, Debris), Jim Ehrich (literary agent, Rothman Brecher Ehrich Livingston), Kim Tran (staff writer, Space Force), Cindy McCreery (RTF faculty member, Honey Girls)
5:00–6:15 pm CT
Chairman, CNBC
5:00–6:15 pm CT
Chair/CEO, Hubbard Radio, LLC
5:00–6:15 pm CT
Actress, writer, producer
5:00–6:15 pm CT
Manager of Original Studio Films, Netflix
5:00–6:15 pm CT
Senior Development Executive, Amazon Studios
5:00–6:15 pm CT
Executive Producer and Founder, Back Roads Entertainment
5:00–6:15 pm CT
Production Executive, Amazon Studios
5:00–6:15 pm CT
Nov. 8 - Brandt Joel
Agent & Partner, WME/Endeavor
5:00–6:15 pm CT
Senior Post Production Executive, Amazon Studios
5:00–6:15 pm CT
Entertainment Attorney & Managing Partner, Ziffren Brittenham LLP
5:00–6:15 pm CT
Distribution and Exhibition Executive
5:00–6:15 pm CT
General Manager, Rooster Teeth
5:00–6:15 pm CT