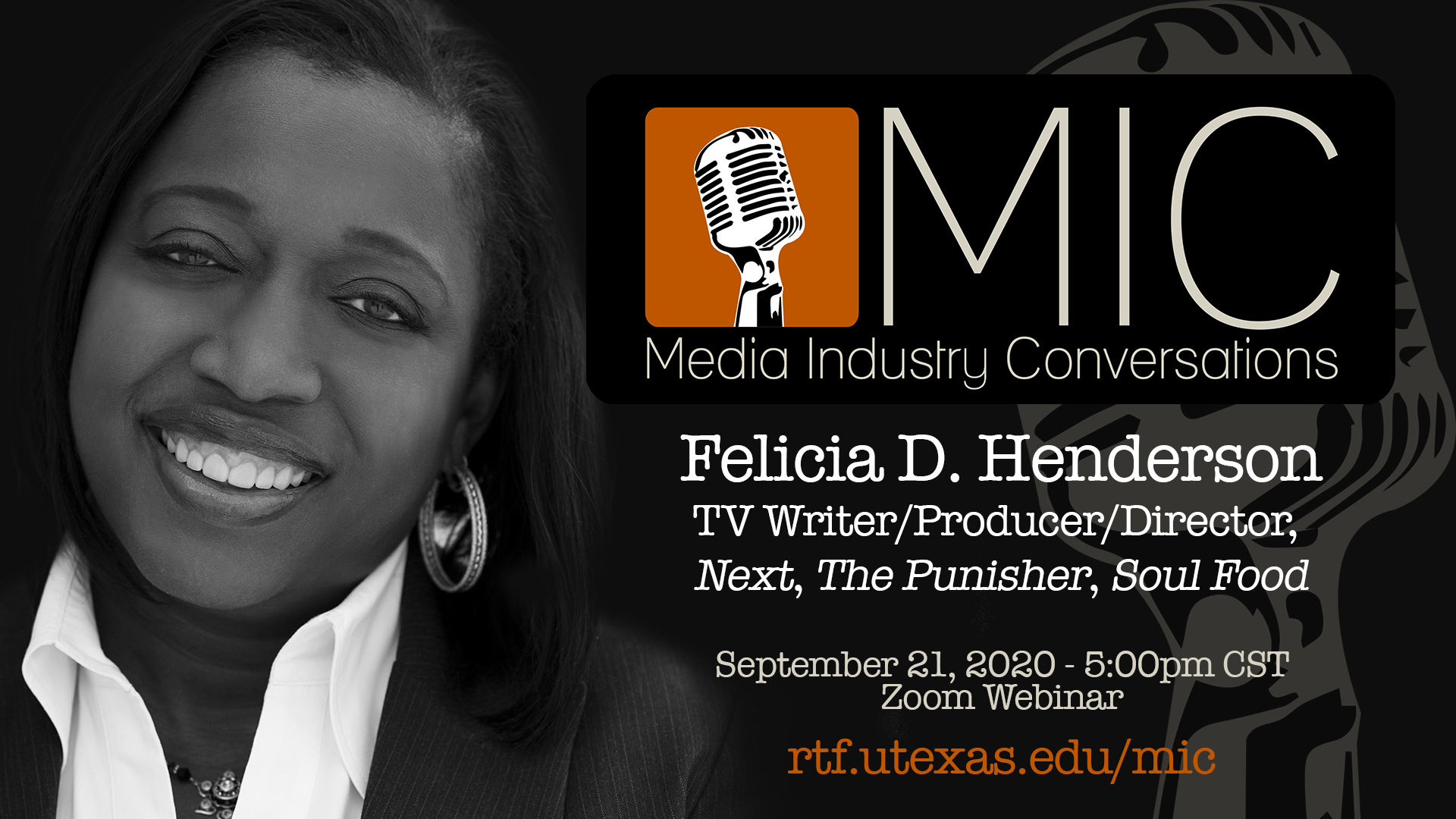 Felicia D. Henderson (TV Writer/Producer/Director, Next, The Punisher, Soul Food)
When: Monday, September 21, 2020 - 5:00-6:15 pm CDT
Please join us for a Q&A session where we discuss Felicia D. Henderson's career trajectory, her roles and responsibilities as TV writer/producer/director for Next, The Quad, and The Punisher, and her views on the current state of the television industry.
To register, please fill out this form and we will send out the Zoom webinar link the day-of. 
Felicia D. Henderson's Biography 
Felicia D. Henderson is the creator of Showtime's Emmy Award nominated series Soul Food, television's first multi-season, successful drama to feature an African American cast. She recently completed consulting producer duties on NEXT, an FBI cyber-crime drama premiering on Fox in the fall of 2020. Currently, she is developing series for MGM and 20th TV, and Netflix.
She co-created and executive produced The Quad, a one-hour drama for BET Networks and also co-executive produced the Netflix adaptation of Marvel's The Punisher, and has written and coexecutive produced such high-profile shows as Gossip Girl, Fringe and Everybody Hates Chris. Continually in pursuit of knowledge, she recently earned a Ph.D. in Cinema and Media Studies at UCLA, as well. Her research interests include culture, class, race, and gender issues in television writers' rooms, political economics of the 2007 WGA strike, and the "othering" of single women in the media. Although Felicia's roots are Mississippi southern, she was born and raised in Pasadena, CA, where she currently resides with Muffin, her four-legged human.
Having earned B.A. and M.F.A. degrees from UCLA, Felicia was honored with UCLA's Tom Bradley Alumnus of the Year Award in 2014 and the UCLA School of Theater, Film and Television's Alumni Achievement Award in 2010. She has been published in some of the most prestigious academic journals in her field.
Felicia is a member of the Diversity Committee for the Sundance Screenwriters Lab, a trustee for the Humanitas Prize, and mentor for the Humanitas Prize New Voices program. She is a Diamond Life Member of Delta Sigma Theta Sorority, Inc. (a public service sorority), a board member of Dancing N.E.D. (a non-profit that raises funds for the treatment of women's cancers), and an honorary board member of Los Angeles based Coalition for Restoring At-Risk Youth (a non-profit that provides social, mental, and medical care to at-risk and homeless youth). Recently, she founded WaterWalk's Hand Up in partnership with the San Gabriel Children's Center. Through this program, WaterWalk provides household, electronic, and personal care essentials for young men aging out of foster care and entering sponsored adult living facilities.