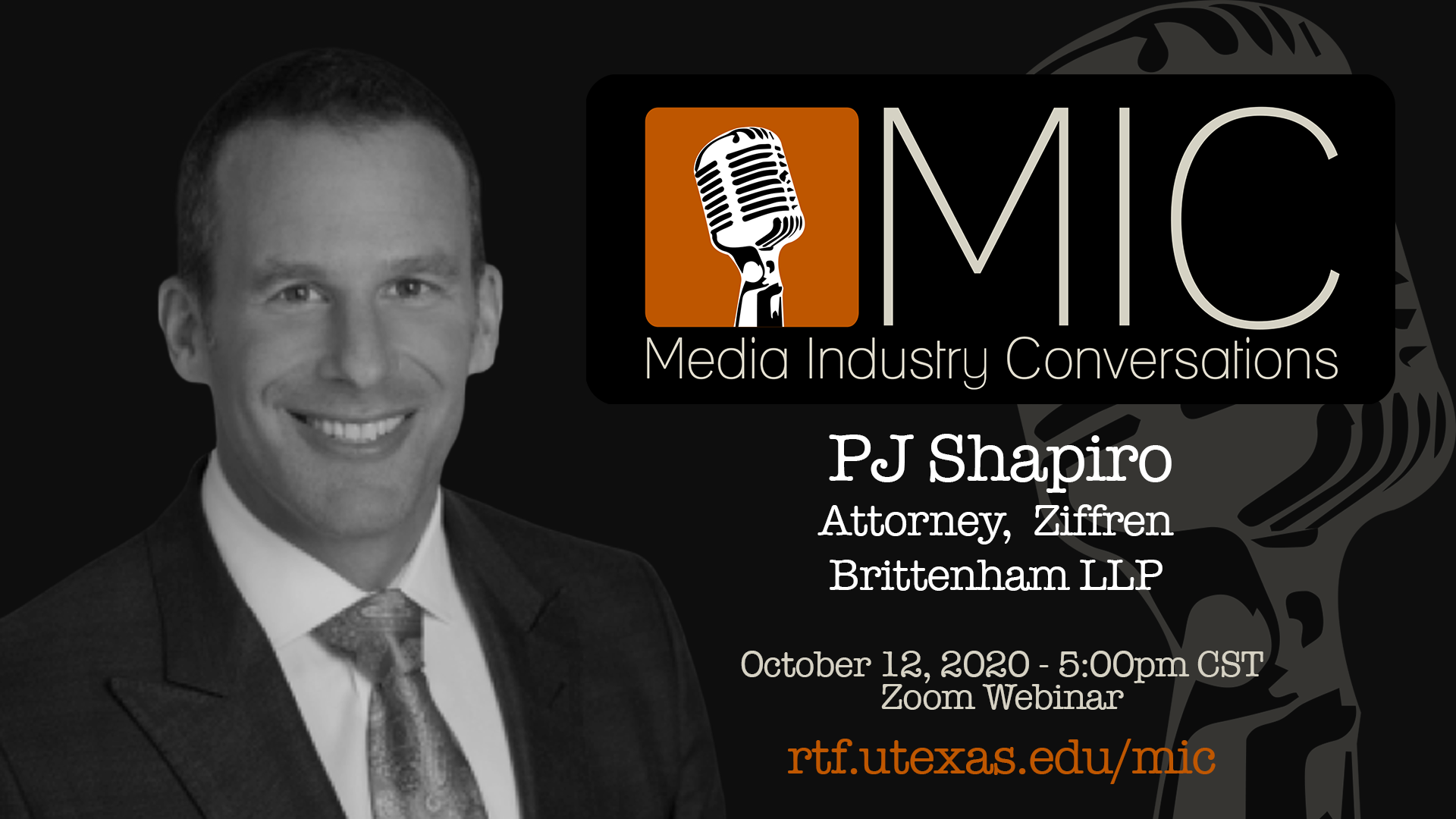 PJ Shapiro (Entertainment Attorney, Ziffren Brittenham, LLP)
When: Monday, October 12, 2020 - 5:00-6:15 pm CST
Please join us for a Q&A session where we discuss PJ Shapiro's career trajectory, his roles and responsibilities as an attorney at Ziffren Brittenham LLP, and his views on the current state of the media industries.
To register, please fill out this form and we will send out the Zoom webinar link the day-of. 
PJ Shapiro's Biography 
P.J. is the managing partner of Ziffren Brittenham, LLP.P.J., who joined the firm in February, 2002, is the firm's youngest capital partner. He has anextensive film and television practice, representing some of the most successful on-camera talent today as well as many acclaimed film and television producers, directors and writers. He also represents some of the biggest superstars in the world of music.
P.J. has structured and negotiated ground breaking transactions in the media and entertainment industries –resulting in both lucrative financial benefits and extensive creative control for his clients. In addition, he has helped his clients identify and exploit important ancillary revenue sources, such as publishing, endorsements and merchandising.
In 2012 P.J. was the youngest person recognized by The Hollywood Reporter as one of the 100 Power Lawyers in the Entertainment Industry—he has remained onthat list every year since. He is regularly listed among Vanity Fair's "Next Establishment" List (Vanity Fair's selection of the nation's emerging leaders in business, media and the arts)and"Legal Impact Report."
P.J. received his Bachelors Degree in social sciences (with a minor in physiological sciences) from UCLA in 1995 and his Law Degree and MBA from USC in 1999. P.J. graduated Order of the Coif from USC Law School and was on the Dean's List at the USC Marshall School of Business each semester during his tenure at the university.
Outside of his law practice, PJ is an active entrepreneur and investor. He serves on theadvisoryboards of Counter Brands, LLC, Jam City and Kidaptive Media.He also serves on the Board of Trustees and is Chairman of theDevelopment Committee at The Laurence School.He contributes to various charitable causes, with a focus on those supporting underprivileged communities, including The Heart of Los Angeles (for which he services as a board member as well). P.J. was married in August of 2002 to Lisa Pfeffer—the couple has three children (Max 14, Jack 11and Paisley 7) and currently resides in Encino, California.